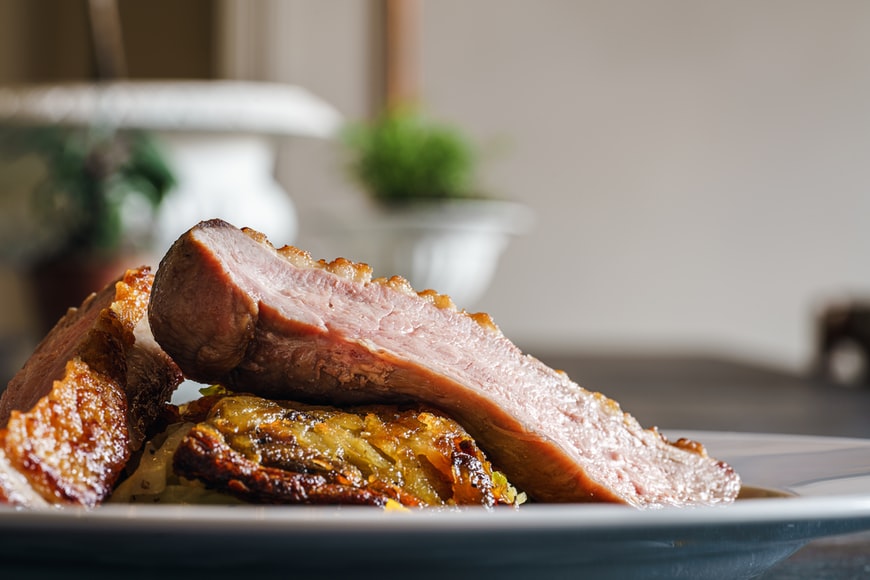 2 large duck breasts, skinned and cut into 1-inch cubes
¼ cup coconut aminos (or soy sauce)
2 tablespoons rice vinegar
1 tablespoon fish sauce (I use hoisin sauce)
1 tablespoon maple syrup
1 teaspoon chile paste (such as Sriracha)
1 large mango, cut into 1-inch cubes
2 tablespoons olive oil
2 bunches asparagus, trimmed
2 tablespoons olive oil
1 tablespoon chile paste (such as Sriracha)
½ teaspoon kosher salt
½ teaspoon black pepper
Combine duck, aminos, vinegar, fish sauce, maple syrup, and chili paste in a large bowl. Marinate 1-2 hours. Thread duck and mango onto 12 (8-inch) wooden skewers, and reserve marinade. Bring marinade to a boil in a small
saucepan.
Cook 2 minutes. Preheat grill or grill pan to medium heat. Place kabobs on grill rack
rubbed with oil. Cook 8-12 minutes or until desired degree of doneness, brushing with boiled marinade.
Note: You can substitute thawed frozen duck breast or 2 lb boneless, skinless chicken thighs. If using chicken, cook about 14 minutes, or until chicken is done.
Sriracha-roasted Asparagus
Preheat oven to 425 degrees F. Combine
asparagus, oil, chile paste, salt and pepper on a
rimmed baking sheet. Bake for 8 minutes, or
until just tender.