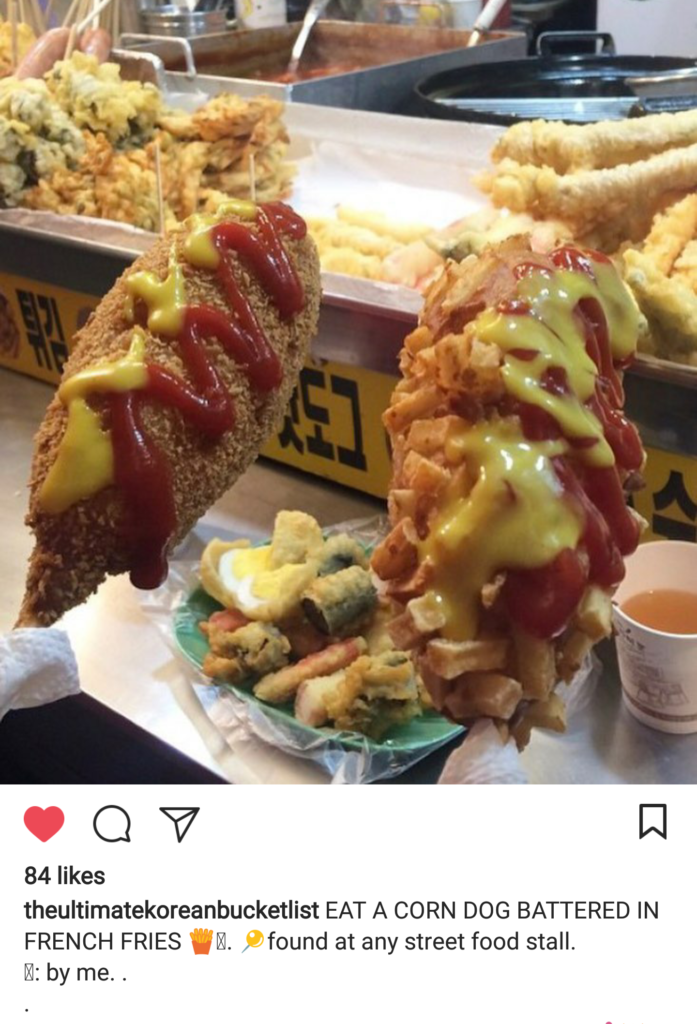 In 30 days, it is all ON. You see this batter-dipped, golden-fried monster to the left? That, my friend, is an Ugly Corndog — one of the best/worst, most amazing street foods in Korea, nay, the world, and it is going in my belly!
My nicely shrinking belly, I might add. As of this morning, I am down to 165.6, bringing my total weight loss since January 2017 to 21.4 pounds. It's been hard work, but worth it. I feel healthier and more energetic with the paleo-esque eating habits and four-to-five trips to the gym each week. Also, not working as a teacher has lowered my stress, which has in turn made my bouts with depression more manageable. Though I love my students so much, I don't regret making the choice to leave education. Sadly, now is not a safe time for teachers… something I may delve into at a later date.
These blog posts have been about keeping me accountable to the goals I set for myself this year. Regarding weight loss, I am closing in on my ultimate goal of losing 25 pounds before April 1st. I'm currently 3.6 pounds away. Yeah, that feels really good.
My Career Goal is to finish Elsewhere, the second installment in The Chronicles of Kex. I am beyond stuck in the plot of that story. Kex refuses to budge, so I'm taking a break while my brain figures this out. In the meantime, I'm writing some short stories and a longer work of fanfiction continuing the story of Answer Me. In the last week, I have written 3,232 words. I have lost track of how much I've written this year, but the new story has reached 20,234 words. Hopefully, I'll be able to finish the rough draft of it before my summer job starts in June.
For my Reading Goal, I am progressing nicely. I finished reading Call Me By Your Name, by Andre Aciman, and The Dispatcher, by John Scalzi, bringing my total for the year to 8 books.  Currently, I'm reading If On A Winter's Night A Traveler, by Italo Calvino. It's seriously one of the most meta books I've ever read.
The Travel Goal I set for this year is to visit a place I've never been. Well, we're going to Seoul and Busan in April, places to which I have traveled before… but I love them. It'll be nice to share them with both Jason and Park.
My Personal Goal of studying Korean is also coming along, though it's difficult to measure. I mean, according to Memrise, my self-study app, I'm at Level 11 and I have learned 357 words. I guess we'll see how I do in Seoul with my newly-acquired vocabulary. I always got along fairly well when we lived there, largely because Korean people were nice to me. I miss it there. And it's not just about the street food.
So that's my check in and progress. March is here; flowers are blooming; I've got tomato plants on my patio! May everyone have a great Texas Independence Day, and if you want to check out some uplifting music, HopeWorld by Jung Hoseok dropped yesterday. It'll definitely make you dance.