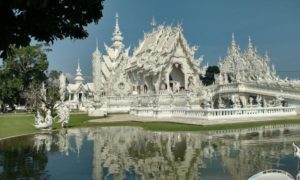 Though 2016 was brutal politically, and we lost many of our childhood icons, on a personal level, the year treated us well. I fell in love. The good kind of love, too: the mutual, sweet, soul-saving kind. I believe I can hear the laughter of the Universe as I type this, but this love was unexpected since I had officially given up. Thank you, Universe, for sending us love. He's wonderful and kind and smart and funny. He's a good man and a decent human being. We'll take good care of each other.
Another awesome thing happened for me in 2016. I received a publishing contract for Elsekind, the Young Adult fantasy novel I started writing before we left Seoul in 2015. Actually, I started writing the Elsekind stories back in middle school as a means of creative escapism. The main character, Kex, always had my back, and we went on wild adventures in an untamed land, righting wrongs and kicking ass with our gay best friend, Hailan Chase. I'm thrilled to say that Elsekind has a release date of April 20, 2017.
Park, my child, graduated early from high school in 2016. To celebrate, we took an epic backpacking trip to Thailand. We hiked in the Golden Triangle, visited the White Temple in Chiang Rae, rode in a wooden motorboat across the Mekong River, and, when we got lost in Bangkok, we were guided safely to our destination by street cats.
We also spent one frenetic day in Seoul, our other home, with two of the finest people we've ever met: Aubrey and Mike. We ran around Hongdae, heard songs from the freshly-released BTS Wings album on the music system of a barbecue place, and gorged ourselves on street food.
Park is now in Utah with their girlfriend. That's another good thing from 2016: Park and Larz. They're pretty amazing. I wish them happiness and new horizons in the coming year.
I suppose I should talk goals and resolutions, though I must admit, I'm hesitant. Since the election in November, I've been in a kind of holding pattern. I've been binging on K-pop culture as a kind of filter because I'm really afraid of what the next few years might bring.
But living a life bridled by fear is not living life at all.
So here are my goals: short, sweet, hopefully achievable.
Career Goal: Finish Elsewhere.
I mean, it's the sequel to Elsekind, and it's halfway done. I should finish it.- A sub-goal to this: keep writing 400 words a day or 2400+ words a week.- Submission Mondays, Blog Post Fridays
Reading Goal: 42 booksI failed my Reading Goal for the first time in 2016. Like I said, in November, I went into a kind of mental stasis. My books gave me no comfort. Also, working from home, I don't commute as much, which means I have less time for audiobooks, which I love. I'm scaling back to 42 books this year. Here's hoping that's a more realistic goal.
Personal Goal: Continue studying KoreanWe started learning in 2013 before we moved to Seoul. Three years later, I can recognize maybe one out of 100 spoken words. My reading and writing skills are better, but not by much. I want to keep it up, just in case…
Health Goal: I don't know. Eat better. Exercise more. Be consistent about it. I know that goals are supposed to be measurable, so I should say I want to lose about 25 pounds. Taking care of my family's needs is paramount, so cooking at home rather than eating out is another way to accomplish our health goals. Stop trying to tempt me, Whataburger! I don't need another patty melt.
Travel Goal: Go somewhere I've never been.That's pretty broad, I know; there are lots of places I've never been. I want to see them all. Dang it, how I wish I was immortal. I could see every place in every season, then go back and see how much has changed over time. Also, I could read every book ever written. Dear scientists: If you need an immortality guinea pig, sign me up!
Last year, my overall goal was to be more generous. I feel that I did okay in that regard, but there's definitely room for improvement. I donated to several causes, including giving blood after the Orlando nightclub shooting. I attended rallies and protests to support our LGBT+ community. I wrote a book with diverse characters. It's not enough. I need to do more. We all need to do more to support each other.
So that's overall goal again this year: actively seek out ways to support people who need it: Be a good friend, be a mentor, be present and active. In that way, we can keep our world safe for everyone.
That's my wish for 2017. May everyone have a healthy, happy, and blessed year.